DR. ANNA KWASNIK
Dr. Anna Kwasnik is a passionate, gentle and caring dentist, with over 15 years of experience in various areas of the dental profession, trained in the United States and in Europe, very grateful to her family, mentors and patients for this amazing professional journey.
Upon graduation as Doctor of Dental Surgery from New York University, Dr. Kwasnik was inducted to the prestigious National Dental Honor Society – OKU. She also holds Fellowship status in International Congress of Oral Implantologists (FICOI) and Academy of General Dentistry (FAGD).
Well grounded in traditional dental medicine and surgery, Dr. Kwasnik is committed to stay up to date with the latest trends and technology and provide the highest quality care for her patients. Her extensive education and top notch clinical skills combined with a very helpful and down to earth attitude continue to award her high respect and recommendations from both patients and colleagues.
DR. YULIYA RABINOVICH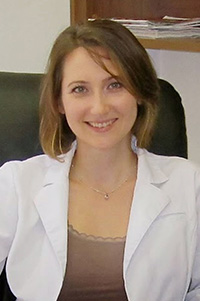 Dr. Yuliya Rabinovich has earned her doctorate from the prestigious New York University College of Dentistry where she was accepted into highly coveted TMJ and Orofacial Pain Clinic as part of the higher education program. After graduating at top of her class, Dr.Rabinovich attended an advanced training Residency Program at Montefiore Medical Center. Being caring, dedicated, and committed to the optimal oral health of her patients, Dr. Rabinovich takes her time to educate her patients on the best way to care for the health of their teeth, while providing gentle high quality dental care. She continues to expand her skills and knowledge by taking continued education courses to aid her in diagnosing and treating a full range of dental pathologies. Dr. Rabinovich believes that, just like eyes are window to person's soul, mouth is a window to person's health and many systemic disorders have implications on oral health. By taking a very careful medical and social history she's able to customize a treatment plan for patients based on their wants and needs.
DR. SUKHMANI GREWAL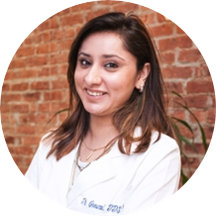 Dr. Grewal is a general and cosmetic dentist. She takes pride in being a good listener who gets to know her patients as individuals in order to provide personalized care. She obtained her degree from New York University.
Patients visiting Dr. Grewal receive a full range of dental services including dental cleanings, extractions, root canal treatments, veneers, crowns, Invisalign, smile makeovers, and general consultations. She wants to "give all her patients a reason to smile, and be the reason behind that smile!"
DR. ANDREW IBRAHIM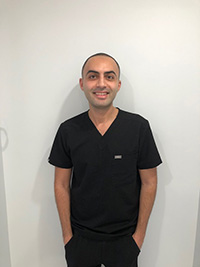 Dr. Andrew Ibrahim is a general dentist who graduated with a Doctor in Dental Surgery degree from Stony Brook University. He then expanded his skills through a General Practice Residency program at NYU Winthrop Hospital. Dr. Ibrahim is a member of the American Dental Association and the Nassau County Dental Society.
Dr. Ibrahim is committed to treating all patients with patience and respect. He believes in the importance of continuing education in delivering quality dental care and is always working to expand his knowledge. Outside of the office he enjoys travelling and spending time with his family and dog.